ERIE CANAL COUSINS

Join Rose, Charles, and the Finnegan family aboard the  Flying Eagle, as they travel on the Erie Canal  from Albany to Utica, New York.  Share in their adventures and listen  to their story as they take a trip on the canal boat in the year  1840. The canal is alive with colorful boats, prosperous towns, booming businesses, and interesting sights. It is where locks,low bridges, mules, and towpaths are a part of everyday life. Erie Canal Cousins is the story of a 13-year-old girl  living  at this time, learning how to make her way in the world. It is full of family life, humor, and growing friendships.
ISBN 978-0-9792947-0-9  110 pages    B+W Illustrations
Ages 10-14 up to adult  Paperback   April 2007   Price $9.95 + tax
THREE WEEKS IN UTICA- BOOK 2
13-year-old Rose Stewart is in Utica where she must face the  challenge of another new place, new relatives, and endless work. Over- whelmed and homesick, she  befriends a neighbor girl, and starts to feel better about her situation until Seth and Samuel, Maggie's older brothers appear giving Rose more to fret about. Rose discovers the prosperity and beauty of the 1840's Utica when she visits the Clinton Market, tours the city, attends a frolic at one of its many mansions, and picnics on the banks of the Erie Canal. Farm Life in 1840 was hard work, but people took time for enjoyable neighborly activities. Rose learns how to quilt, participates in a quilting bee, and makes butter. She clashes with Maggie's brother, Seth, and makes a new friend of Maggie's other brother, Samuel.
     This book will introduce you to and maybe even surprise you with some interesting facts and tidbits about Utica history. The back of the book contains a Glossary, Life in Utica in 1840, a Map and a Utica Timeline and Milestones.  
ISBN 978-0-9792947-1-6        120 pages     B+W Illustrations                                 Ages 10-14 and up   Paperback   July 2008    Price $9.95 + tax
ALBANY HOMECOMING-BOOK-3  
Rose is back on the Erie Canal on the Flying Eagle returning to Albany with her cousins, the Finnegans. After many enjoyable experiences on the boat, an unexpected crises arises as they near Albany, causing everyone distress. The story continues in Albany where you will meet Roses' Mama Papa, her sister, Cassie, and brothers, Robert and Caleb. You will spend a day with  Rose in a one-room schoolhouse and learn some tidbits about early                                          Albany.
ISBN: 9780970284723           140 pages          B&W illustrations
Ages 10-14 and up      Paperback      August 2009      Price  $9.95+tax
                                                                            
CANAL TOWN CHRISTMAS-BOOK 4                              
Did you ever wonder what Thanksgiving and Christmas were like in the 1840s. I did,  and did some research on it , and ended up writing a book about it.                                             Join the Stewarts as they celebrate these special days. An unexpected guest arrives; they learn some new customs; have tons of adventures along the way and cope with the limitations of living in the 1840s.
 
ISBN: 9780979294709        120 pages     B+W   Illustrations
Ages 10-14 and up to Adult Paperback  September 2010 Price: $9.95+tax
STARS OVER BUFFALO-BOOK 5
This is the last book in the Erie Canal Cousins Series. In it, Rose travels with some of her Cousins, west of Utica on the Erie Canal, passing through the cities of Rome, Syracuse (salt city), the scary Montezuma Swamp, Rochester (flour city), Lockport (famous five locks), and Buffalo. They also get to see Niagara Falls, a new attraction at that time.
There is plenty adventure and excitement  in this book and history (of course). An Epilogue reveals what happens to all the characters down the road, paving the way for a new series about Rose's children called, Town of Paris Twins, debuting in 2013.
 
ISBN: 9780979294747              120 pages                 B+W Illustrations                  Ages 10-14 up to adult        Paperback       October 2011     Price: $9.95+tax
NEW SERIES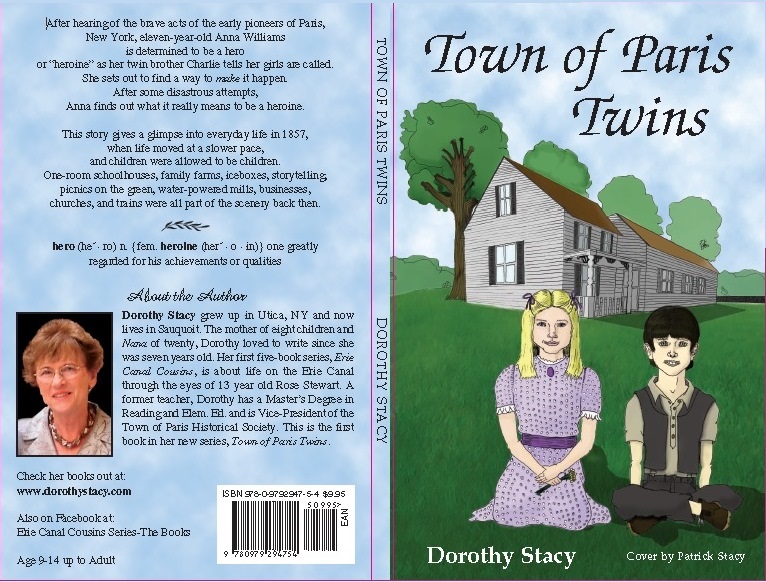 Town of Paris Twins, is the first book in my new series about Rose and Charles' twins, Anna and Charlie. 
Rose wants to be a hero or heroine as her twin brother Charlie tells her. She has to overcome many obstacles in order to do it. But she is persistent and eventually overcomes them.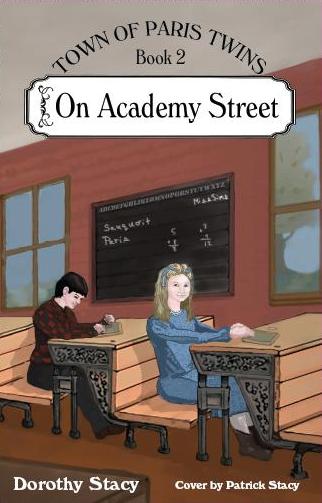 On Academy Street, is Book 2 in the Town of Paris Twins Series. The twins Anna and Charlie and their  family move to Sauquoit. There they encounter the school  bully and have to learn how to deal with her. It takes them a long time but they finally find out the surprising reason why Hattie does the things she does.
My son illustrated these last 2 covers.