This is a publishing company I started in March 2007 when I decided to publish my own book. It is located in the beautiful Sauquoit Valley of New York State in a 200-year-old house. It is a one person small business dedicated to publishing, distributing, marketing, and selling of my books. It was a very challenging but exciting adventure. I had to learn everything from how to size the pages, acquire ISBN numbers, a Library of Congress Control Number, a copyright, etc. I also had to learn how to do pen and ink drawings as I did the illustrations and they had been first done in pencil.
It took me 2 months to complete all of this after I wrote and edited the book.  The books are printed by Morris Publishing, Inc. of Nebraska, a wonderful company to work with.

ABOUT ERIE CANAL COUSINS SERIES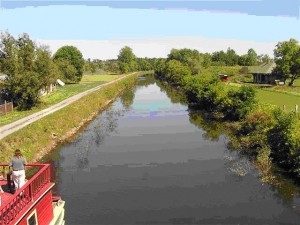 I decided to write the first book after a visit to The Erie Canal Village in Rome, New York with my first grade class. I began to wonder what life would have been like there in the 1800s. Learning about the building of the canal, I realized what a marvelous feat its construction had been in that day and age. I began to research the era and canal extensively, and that inspired me to write this first book.
People that bought the book wanted to  read more and suggested I write a sequel. I had always  intended to write one more book, Three Weeks in Utica, to follow the first, but after  that one was done,  I realized  I  had more to tell  about Rose and decided to make the story into a series of five books.
Erie Canal Cousins presents history to children in an interesting, entertaining way. It is full of adventures typical of early travel on the Erie Canal and ordinary life in 1840.
The backs of the books contain Timelines, a  Glossary of 1840's terms, and a sketch of Life in America/Utica in 1840.