WELCOME to my website!
I'm Dorothy Stacy, Author of  historical fiction for middle grade readers.
     My mission is to present history to children (and adults) in a fun and interesting way through stories, historically correct, filled with adventure, interesting characters, and family fun. History should be enjoyed not dreaded.
    I am on Facebook, and have slightly neglected WordPress blog, Writing By Candlelight. Click on the What's New Page above to find all the current happenings with the books and the author. There will  be  new entries.  Check it out often. I am available for school visits and speaking engagements. If  interested, click on Contact Me  to get in touch with me.            
     The Erie Canal Cousins Series and The Town of Paris Twins Series are available from Blackberry Hill Press (me)  (Click on Buy Books for an order form), your local bookstore, Town of Paris Historical Society, Oneida County Historical Society,  Gansevoort House Books, Cliffs's Dairy, Gems Along the Mohawk,  The Shops at 25 West, The Adirondack Reader in Inlet, Dodge Pratt Northam Art and Community Center in Boonville, and Amazon or Barnes and Noble on-line. If your local bookstore doesn't have then, ASK for them. Barnes and Noble will order it for you if your local one does not have it in stock.
     The main distributor of the books is now me as North Country Books, my former distributor went out of business. 
    My Slogan:  "Let a good book tickle your mind!" ~Author Unknown                       My  motto is:  Make it Special!
~*~*~*~*~*~*~*~*~*~*~*~*~*~*~*~*~*~*~*~*~*~*~*~*~*~*~*~*~*~*~*~*~*~  
July is here.  Time seems to go faster and faster.
Great News–

HOLMAN CITY MYSTERY

– Book 3 in the Town of Paris Twins Series is here now and I have a big stack of  books in my back hall.

I will be scheduling  Book Signings, and  Author Visits for the rest of 2023–2024. Please  e-mail me at: dhstacy@gmail.com  if you are interested.
      Here is the Cover Picture of the New Book: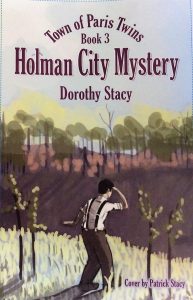 Charlie, the 11 year old  boy twin, finds something spectacular off the beaten path in Holman City. It was something he never expected to find in a million years. He has a lot of questions about it.
What is it? How did it get there? Who did it? No one seems to know anything about it. But Charlie is determined to find out the answer to these questions as he goes about investigation this phenomena.
The cover was done by my son Patrick Stacy. Great illustrator, isn't he!
 Click on Contact Me  to see where you can find me.